Home
» Internal Grinding Wheels
Internal Grinding Wheels
The internal grinding wheels is a cylindrical grinding wheel with a round thouch hole. It made by high quality abrasives of aluminum oxide and silicon carbide. The internal grinding wheels widely used for are used in internal and external faces of ball & roller bearings, barrels, rings, compressor parts, injection nozzle parts, crankshaft, connecting rod ends, gun barrels and bores, hydraulic cylinders and pneumatic cylinders etc.
Specifications:
Materials: Aluminum Oxide, Silicon Carbide
Outer Diameter: 6mm - 100mm
Height: 6mm - 100mm
Inside Diameter: 4mm - 20mm
Shapes: can be customized on request.
Application: Mainly used for machining a workpiece hole expanded to a precise size, and reach to surface roughness request.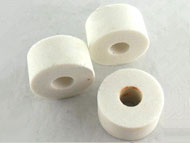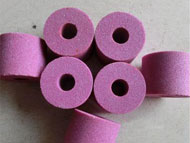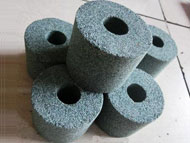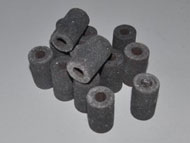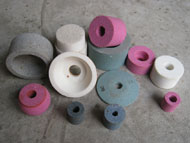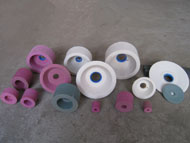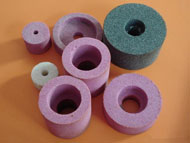 Variety

Symbol

Application

Pink Aluminum Oxide
(Pink Fused Alumina)

PA

For general grinding and coarse grinding the internal tools, gears, and instrument frame of alloy steel, tool steel, and hardened steel.

White Aluminum Oxide
(White Fused Alumina)

WA

For fine grinding, dressing, honing, or screw grinding the tools of alloy steel, high speed steel, hardened steel and more. It has advantages of great strength and high hardness.

Brown Aluminum Oxide
(Brown Fused Alumina)

A

For carbon steel, alloy steel, malleable castiron, or hard bronze grinding and cutting.

Green Silicon Carbide

GC

For brittle and hard carbide, glass, gem, and stone grinding and cutting, or super fine grinding.

Black Silicon Carbide

C

For cast iron, non-ferrous steel, and non-metallic material grinding, cutting, or honing.
We offer a range of standard shapes internal grinding wheels for your application. And we offer customize mounted points according to customer requirement, such as "A shapes mounted points", "B shapes mounted points" and "W shapes mounted points". It can be mounted on 1/8" shank (3mm shank) or 1/4" shank (6mm shank).
Wenzhou Yinuo Molding Co., Ltd. is a high-tech company for the design, development and manufacture of mounted points and grinding wheels in China. Our main products aluminum oxide mounted points, silicon carbide mounted points, rubber mounted points, mounted flap wheels, mounted felt wheels, diamond mounted points and internal grinding wheels. We focus on manufacturing mounted points and grinding wheels then shipping products to around the world. We had 10 years of production experience, and our experienced team to manage manufacturing projects and ensure product quality from demand to delivery (inquiry, design, materials, production, package, shipping).