Home
» Electroplated Diamond Mounted Points
Electroplated Diamond Mounted Points
The diamond mounted points are made by high quality abrasives of synthetic diamond alloy. It's widely used for various granite, marble, internal grinding and precision grinding of small holes in carbides, glass, ceramics, sapphire and many of the tough, super alloys and different hard crisp nonmetal materials.
Specifications:
Materials: Synthetic Diamond Alloy
Shank Diameter: 2.35mm, 3mm or 6mm (full range of standard shapes and sizes)
Outer Diameter: Optional
Height: Optional
Shapes: can be customized on request.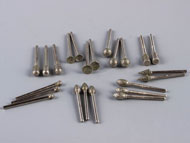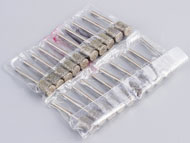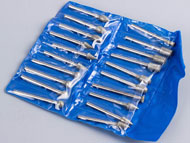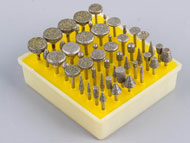 We offer a range of standard shapes diamond mounted points for your application. And we offer customize mounted points according to customer requirement, such as "A shapes mounted points", "B shapes mounted points" and "W shapes mounted points". It can be mounted on 1/8" shank (3mm shank) or 1/4" shank (6mm shank).
Wenzhou Yinuo Molding Co., Ltd. is a high-tech company for the design, development and manufacture of mounted points and grinding wheels in China. Our main products aluminum oxide mounted points, silicon carbide mounted points, rubber mounted points, mounted flap wheels, mounted felt wheels, diamond mounted points and internal grinding wheels. We focus on manufacturing mounted points and grinding wheels then shipping products to around the world. We had 10 years of production experience, and our experienced team to manage manufacturing projects and ensure product quality from demand to delivery (inquiry, design, materials, production, package, shipping).